Hall of Fame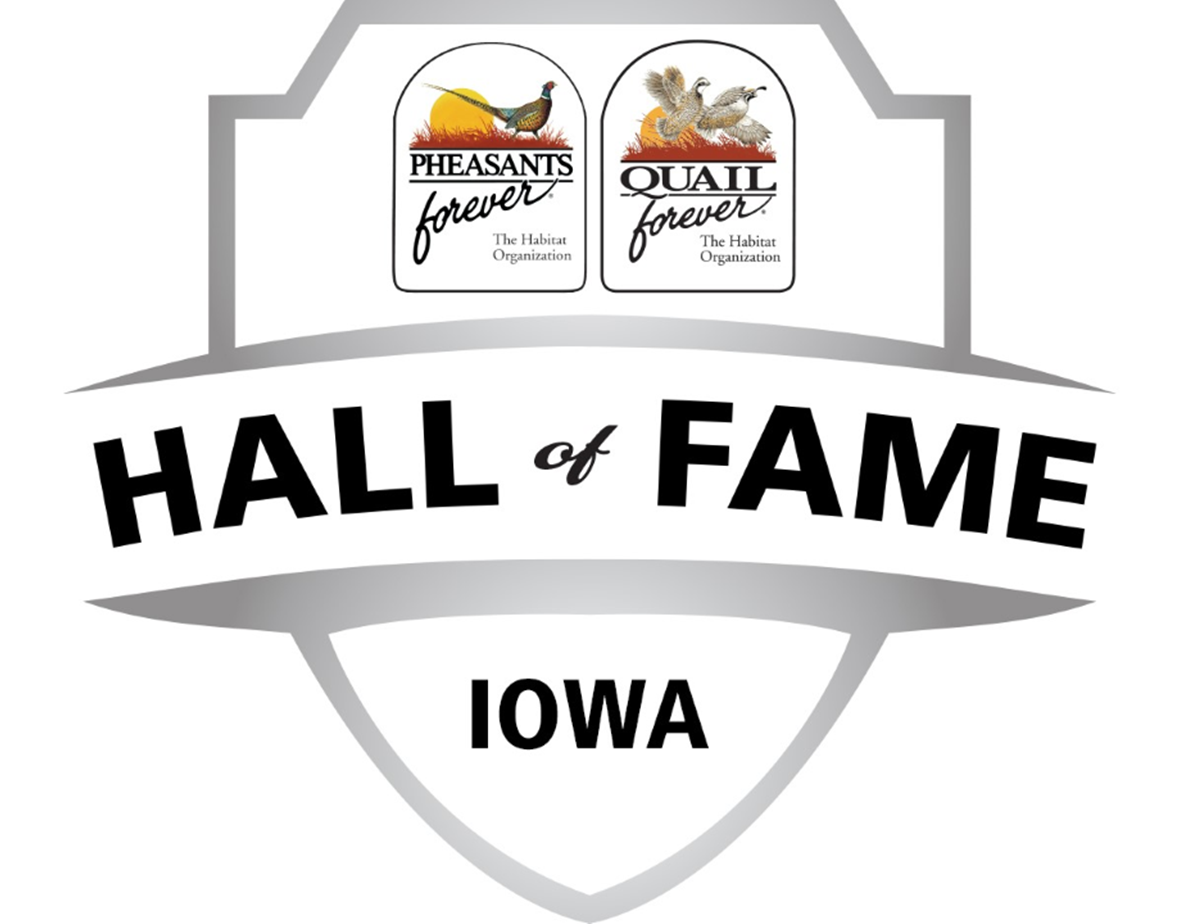 The Iowa Pheasants Forever and Quail Forever Hall of Fame was created to celebrate the accomplishments of our exceptional volunteers.
Each year we honor a select few volunteers at our state meeting with a dinner and ceremony. Hall of fame members are surrounded with family, friends, and fellow volunteers for an evening of toasting and boasting, and presented with a commemorative plaque denoting their achievement.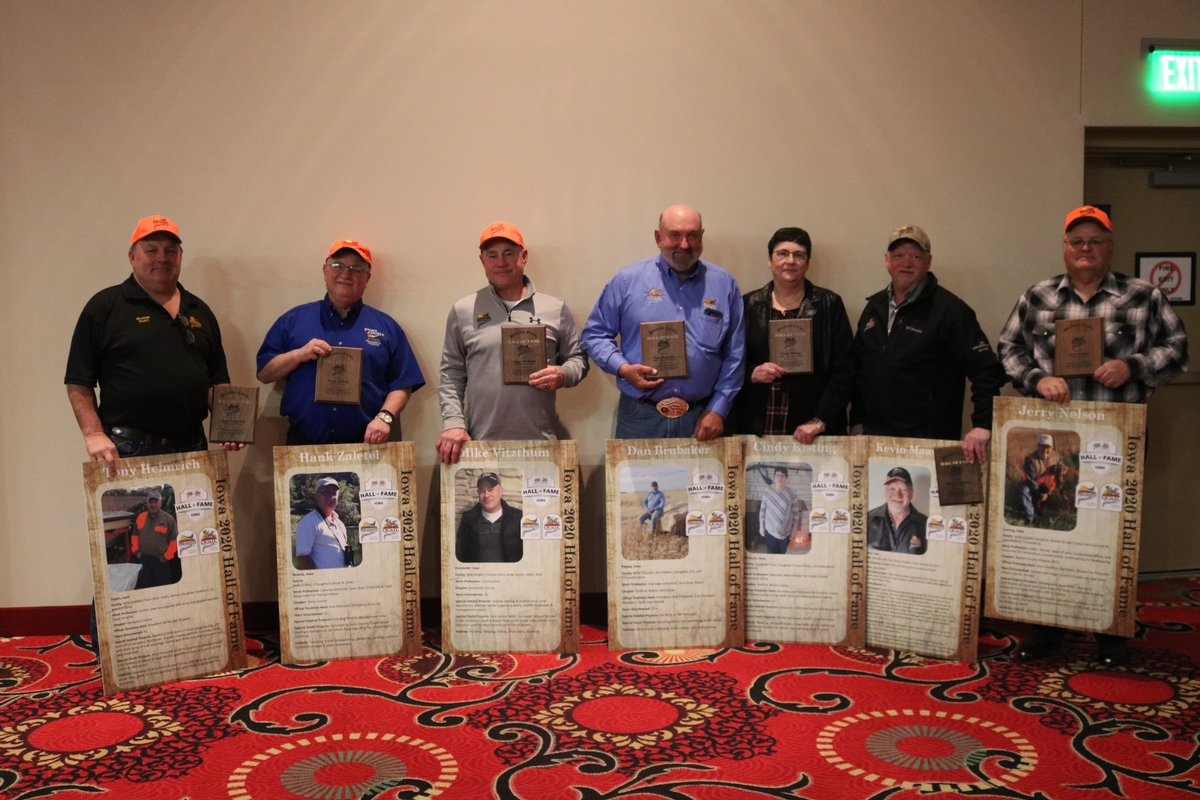 2020
Congratulations to our 2020 Iowa PF/QF Hall of Fame inductees!
Dan Brubaker—Guthrie/Dallas Counties PF/QF
Tony Helmrich—Deleware County PF
Cindy Kisting—Guthrie/Dallas Counties PF/QF
Kevin Maassen—Clay County PF
Jerry Nelson—Adams County PF
Jim Studer—Dickinson County PF
Mike Vitzthum—Humboldt County PF
Hank Zaletel—Story County PF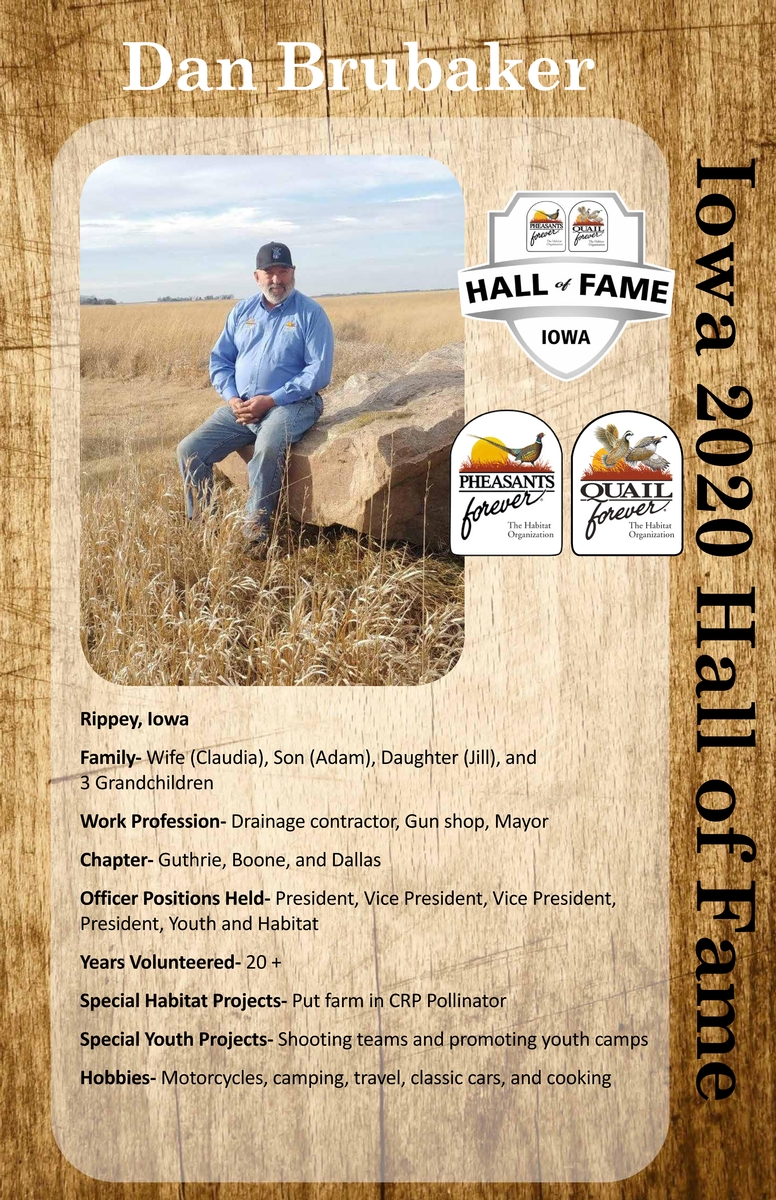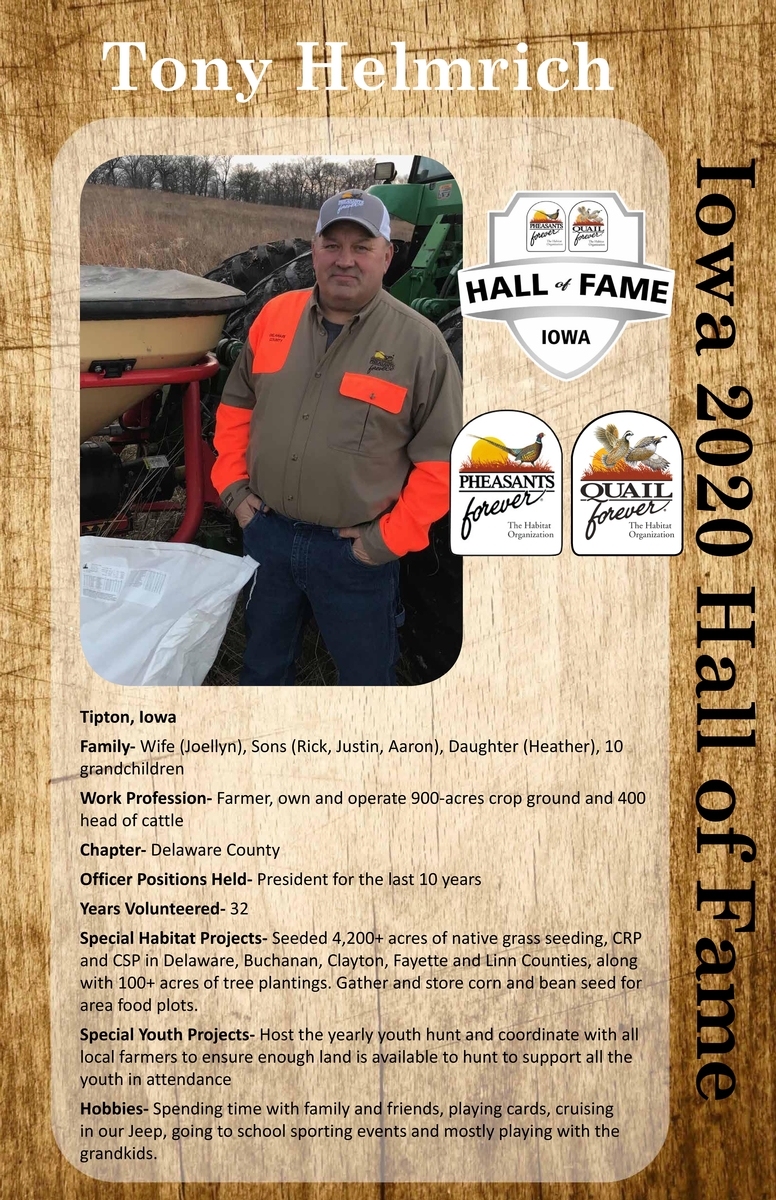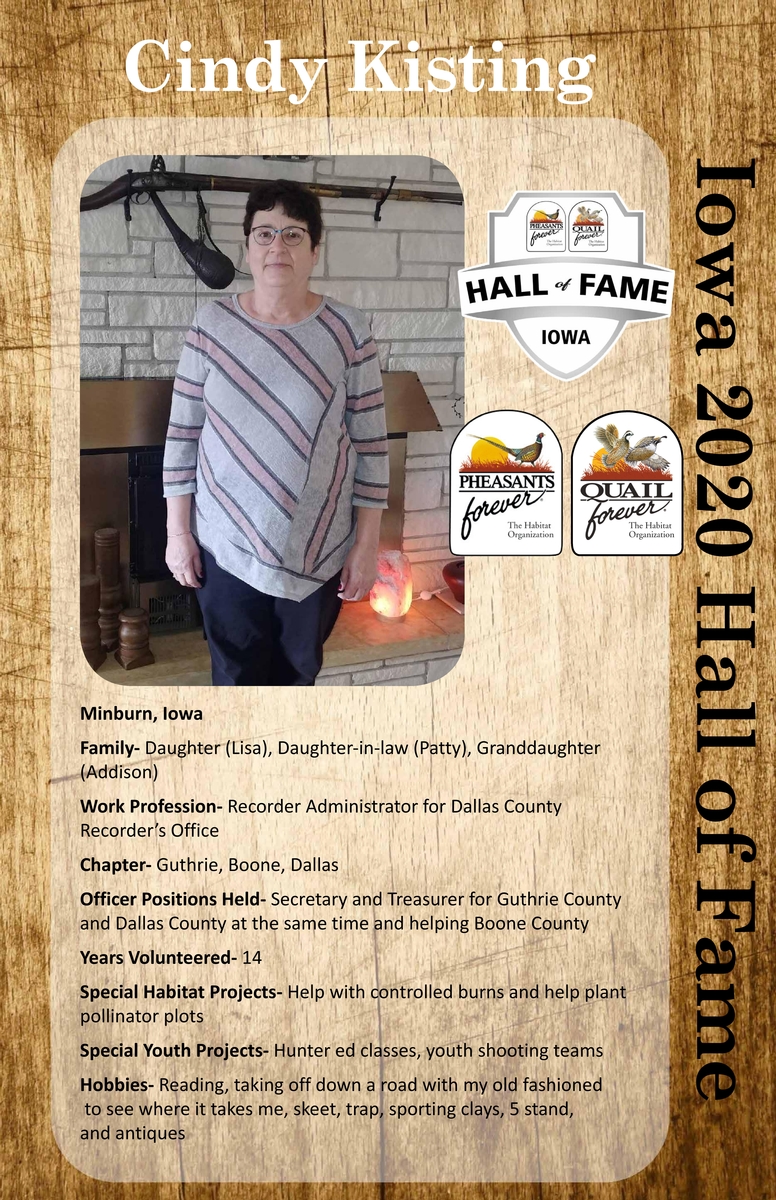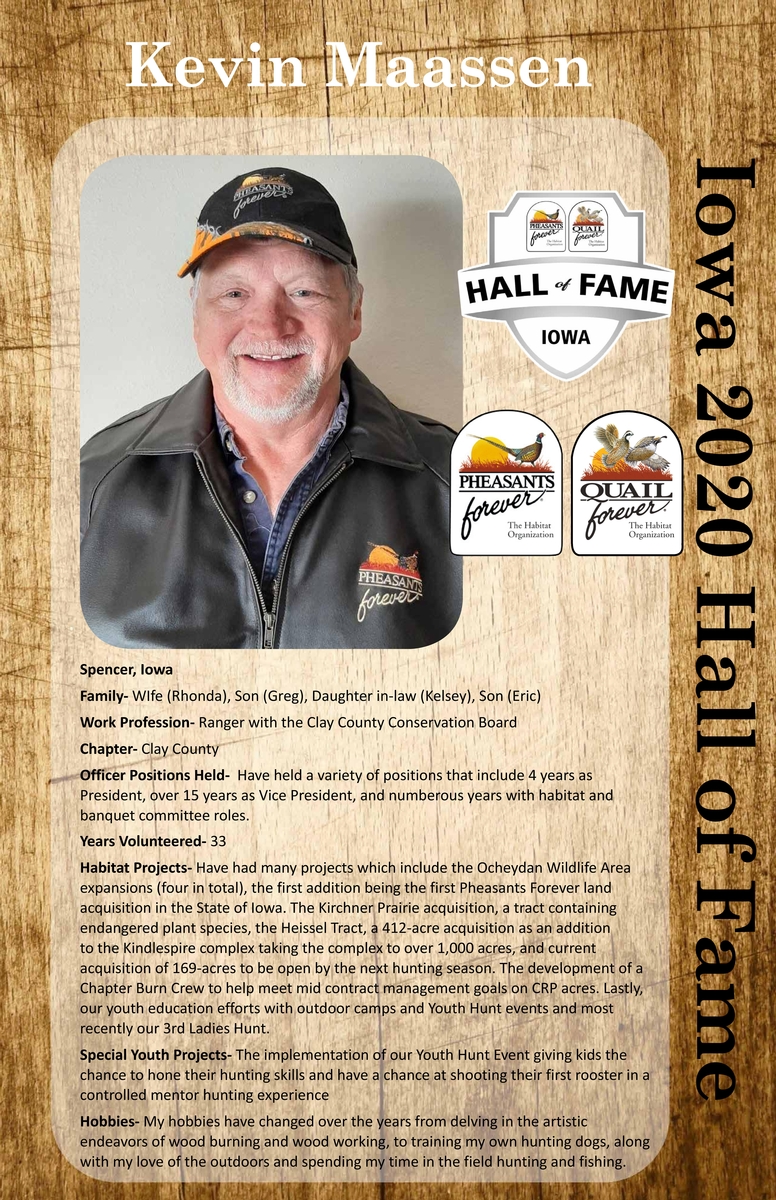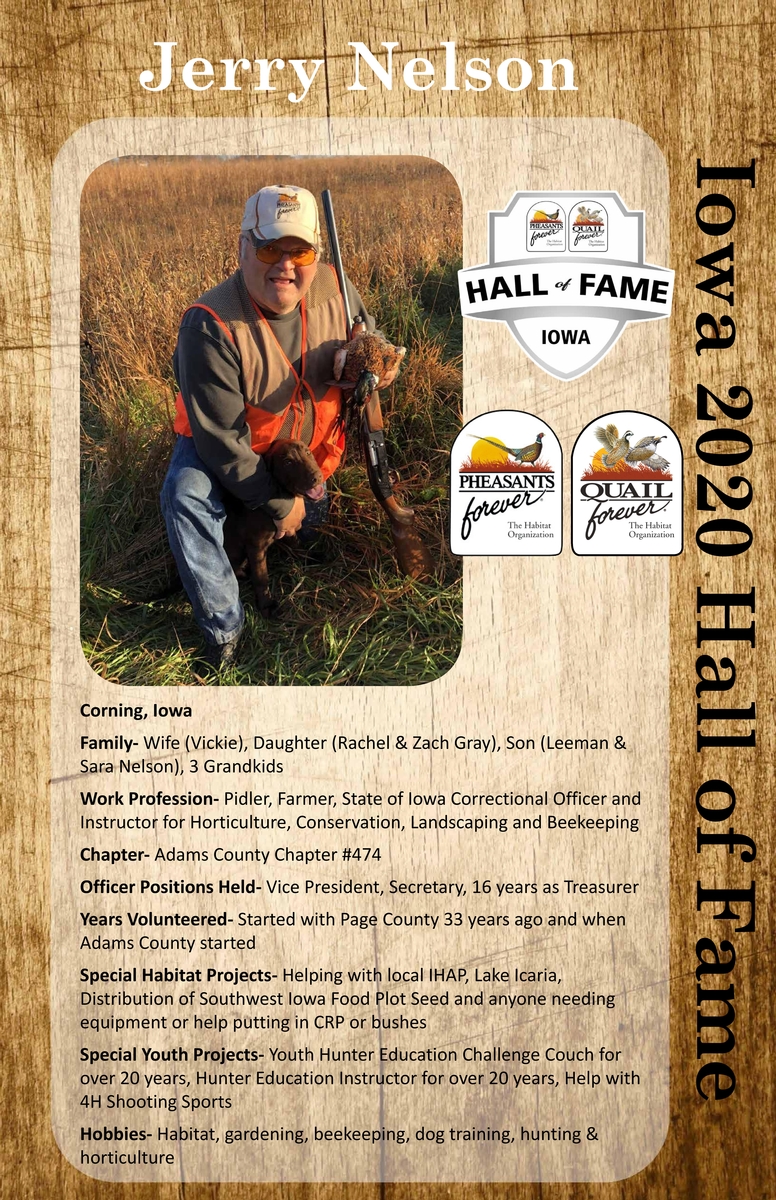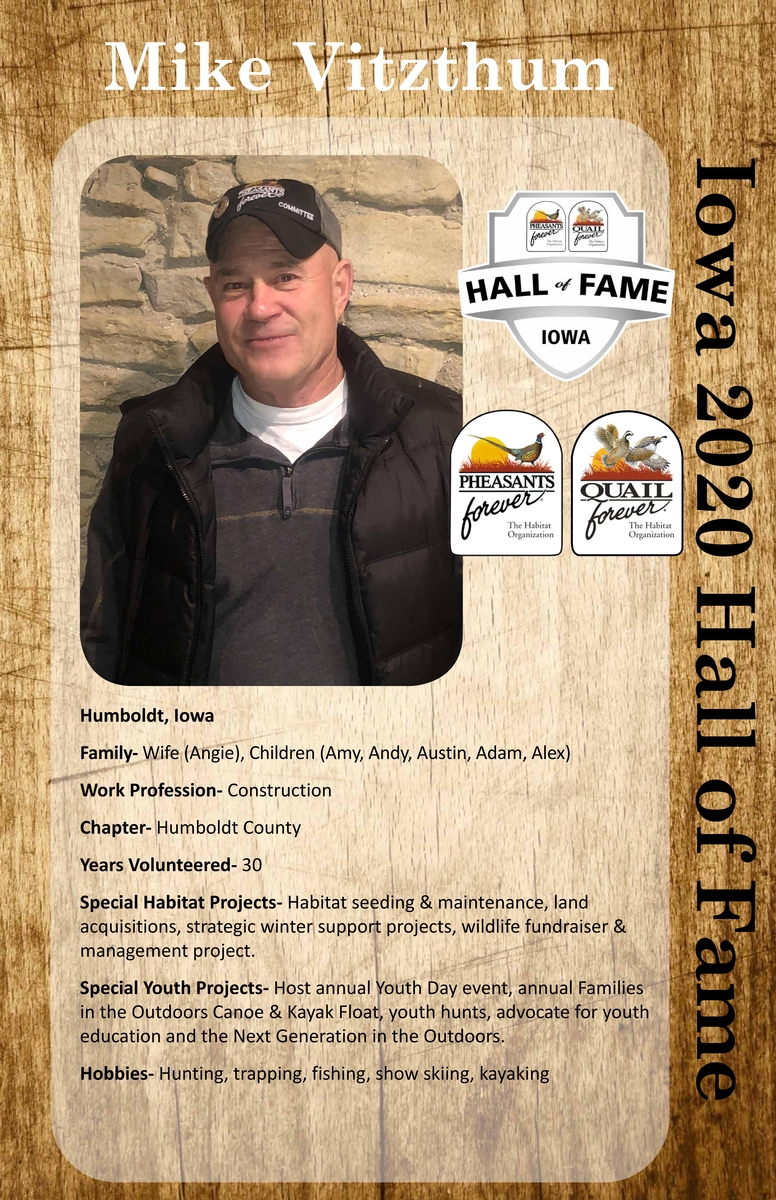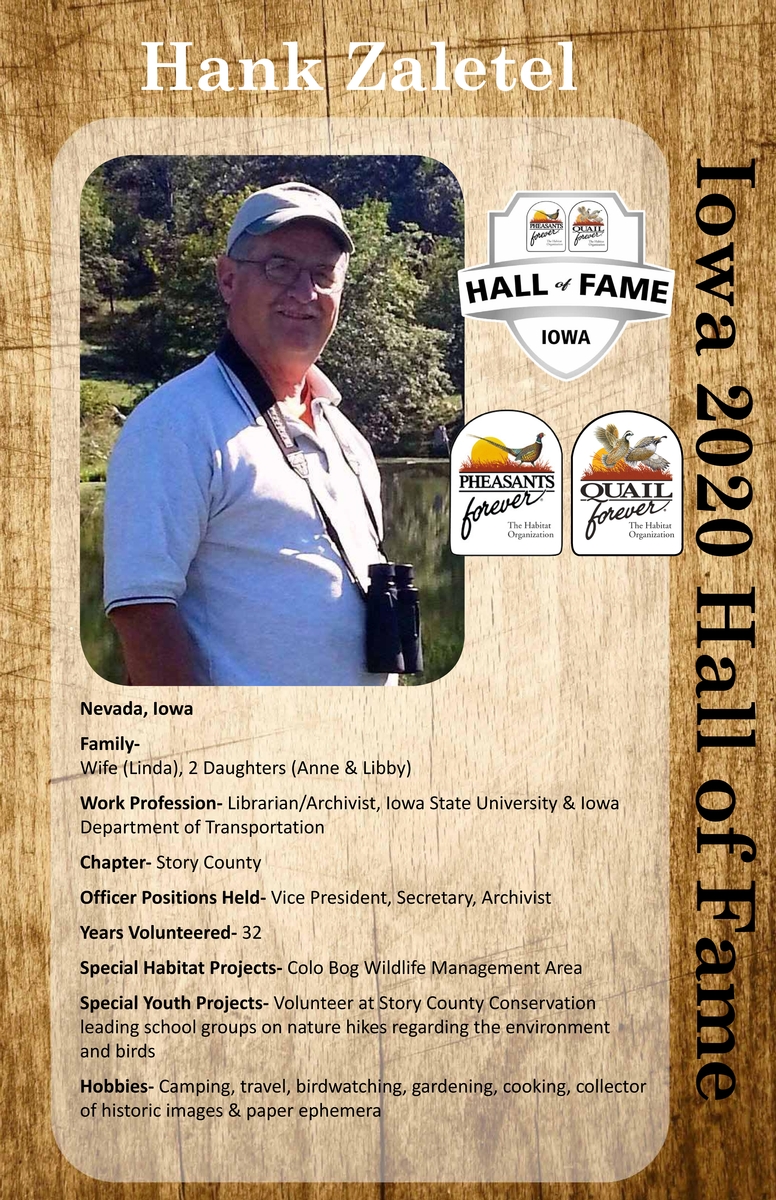 2019

Forrest Kramer
Daryl Biechler
Brian Long
Ed Mittvalsky
Matt McQuillen
Scott and Julie Stanley - Warren County
Steve Gray - Henry County
Tracy Buck - Crawford County
Richard Uetz
2018
Mike Dauber - Cedar-Wapsi PF
Mark Droessler
Keith Lewis - Wapello Co
Jim Montgomery
Steve and Nancy Schug
Rob Schulte
Jeff Telleen - Southern Prairie PF
Jim Wooley - Southern Prairie PF/Warren Co PF
2017
A Jay Winter - Iowa Capitol
Bryan Herold - Lee Co
Dale Brockshus - Montgomery County
Dan Ellis
David Greteman - Carroll County
Gerry Ommen
Jeff VanDerBeek - Mahaska County
Mike Wallace
Pat Petersen - Audubon County
Scott Osborn
2015
Douglas Bohlen
Pam Bradford Iowa Capitol Chapter
Dwane Cleveringa
Timothy Fiedler
Dan Forry
Terry Haindfield
Joe Hanner
Bruce Hertzke
Kevin Kuester
Kevin Lamphier
Dean Mueller
Carl Priebe
Kent Rupiper - Northern Polk
Chuck Scheer
Al Schrock - Iowa Capitol
Joe Strang
Richard Tebbs - Lee County
Jack VanLaar - Decatur County
Bruce Volz
Dan and Kim White
George Jaques - Henry County
2014
Dr. Bill Clarke - Iowa State University
2013
Keith Krause - Delaware County
Jim Ranum - Allamakee County
Kenny Snyder - Carroll County
Virgil Marchand - Dickinson County
Kevin Reynolds - Decatur County
Tom Hamilton - Pottawattamie County
Jerry Eiben - Dubuqueland Chapter
Joel Boeyink - Sioux Prairie Chapter
George Wilson - Winnebago/Hancock Chapter
Stanley Johnson - Page County
Tom Poole - Marshall County
Steve Slifka Turkey River Chapter
2012
Ted Daugherty - Van Buren County
Loren Hamilton - Buchanan County
Norman Lust - Clarke County
Paul Gogerty - Floyd County
Norm Lundquist - Webster County
Dean Rowe - Taylor County
Kevin Devilbiss - Greene County
Reg Wells - Poweshiek County
Dan Wells - Plymouth County
2011
Wayne Wessels - Deleware County
Rusty Grace - Hamilton County
Rick Krenz - Davis County
Rich Smith - Ida County
Ray Zeisneiss - Marshall County
Kay Kollmorgen - Humboldt County
Gordon Pottebaum - Sioux Prairie Chapter
Glen Brockshus - Montgomery County
Earl Van Sickle - Black Hawk County
2010
Tim Greenwood - Cherokee County
Rod Marlatt - Fayette County
Nick Aalbers - Iowa Capital Chapter
Milt Owen - Iowa Pioneer & Mitchell County
John Newton - Ringgold County
KR Buck - Sac County & Crawford County
Dan Dunham - Dubuqueland Chapter
Caroll Herndon - Winnebago/Hancock Chapter
Ben Moore - Henry County
2009
John Dalton - Pottawatamie County
Don Lamb - Dickinson County
Dave Fuller - Adams County
Dan Reed - Boyer Valley Chapter
Scott Rustwick - Woodbury County
Jon Steege - Fayette County
Darwyn Peter - Bremer County
Doug Bahl - Plymouth County & Wayne County
Joe Tebbs - Lee County
Mel Allison - Lee County
Jerry Beck - Webster County
George Wilson - Winnebago/Hancock Chapter
Jerry Meyer - Floyd County
Dean Sandstoe - Iowa Capital Chapter
Bill Benson - Mahaska County